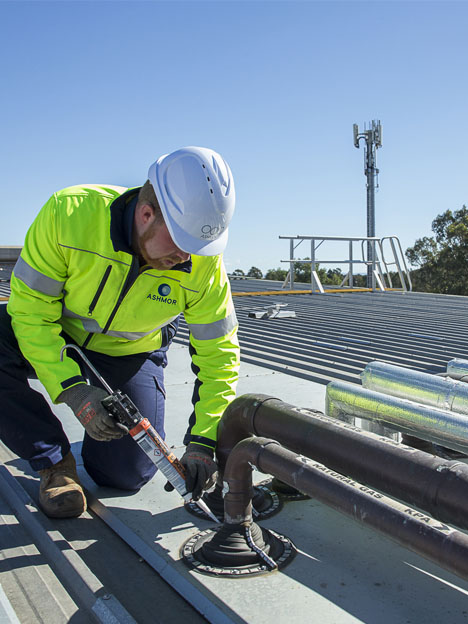 It's imperative to ensure that your roof is in good condition to protect your home or workplace from the elements. Not doing so can unfortunately lead to very costly consequences, such as extensive damage and ongoing repair work. Hiring licensed roof plumbers to inspect your rooftop and fix any problems can save you a great deal of time and money in the long run.
Express Asbestos Solutions is an independent roof plumbing company and a leader when it comes to roof maintenance in Melbourne and surrounds. With decades of experience in the industry, we've developed long-lasting relationships with both residential and commercial clients. We're committed to always providing outstanding customer service and fixing any roof related problem that our customers have, no matter how big or small.
We've earned a reputation as a leading local roof plumbing company that provides both residential and commercial roof repair and roof maintenance in Melbourne and Victoria. Our in-house team of fully qualified and licensed roof plumbers can carry out a wide variety of roof plumbing services, from basic jobs like fixing roof leaks and gutters to more complex tasks like repairing rainwater tanks and complete asbestos roof replacement.
Our specialised roof plumbers will travel to your location to inspect your roof and speak with you about the best course of action. We'll discuss every possible option and carry out roof plumbing services that are of the highest standard.
How We Can Help You with Roof Plumbing Services
We provide exceptional roof plumbing services to meet all your needs. Whether you require roof repairs, maintenance, or installation, we have the expertise to deliver top-quality solutions. We understand the importance of a well-functioning roof in protecting your property from the elements. With our prompt and efficient service, we can help you maintain a leak-free and structurally sound roof.
Roof Leaks
Roof leaks can cause critical damage if they're not fixed promptly, no matter how minor they may seem. Calling Express Asbestos Solutions as soon as you see any water leaking from your roof is the best way to prevent any further damage from occurring. Our expert roof plumbers will examine your roof to find the source of the leak and fix it.
Gutters
Gutters incur wear and tear over time due to being exposed to the elements. As a result, every 6-12 months, they should be cleaned out and checked for any problems. Express Asbestos Solutions has resolved many types of issues that gutters tend to experience, from blockages through to damage.
Gutter Downpipes
Gutter downpipes play an important role, catching the water that flows from gutters to protect the building from roof leaks and overflow. Express Asbestos Solutions can fix any problems your gutter downpipes have or completely replace them for a fair price.
Roof Flashing
Roof flashing structures are designed to stop water from entering a property via the roof by redirecting the flow of water away from any areas that could succumb to leaking. Express Asbestos Solutions can fix any problems that your roof flashing has or completely replace it with a new system that fulfils your roofing requirements.
Rainwater Tanks
Express Asbestos Solutions is a roof plumbing company that has many years of experience in fixing both residential and commercial rainwater tanks. Whether your tank has cracks in it or is experiencing any other problem, our technicians have the skills and equipment needed to repair rainwater tanks of any shape or size.
Contact Us Today
If you've been wondering "are there any good roof plumbers near me?", get in touch with Express Asbestos Solutions today. Call us on 0427 150 500 or contact us online to book our roof plumbing services.